80s Fashion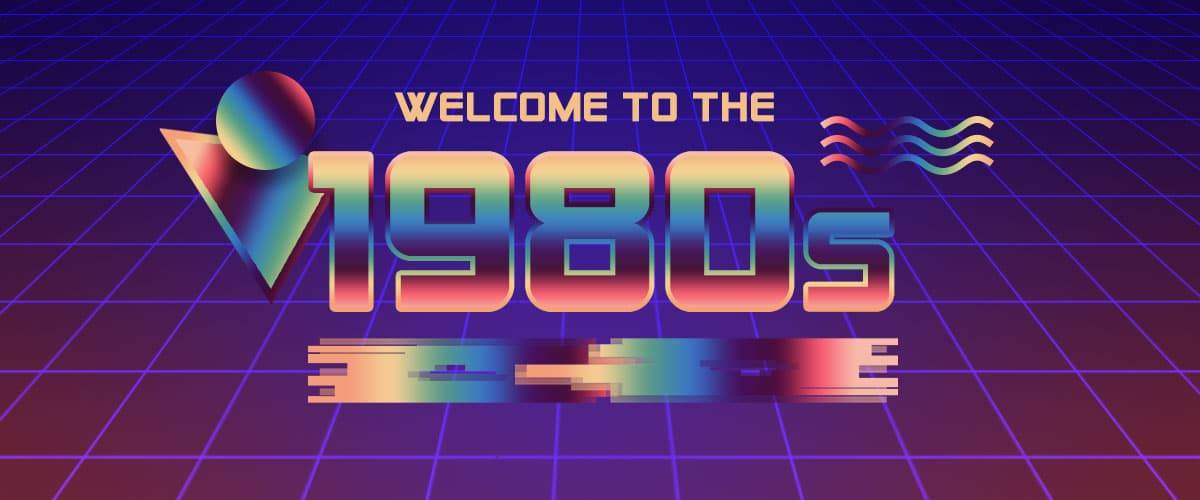 How to Dress for an '80s Party
The '80s are known for quite a few things, including leg warmers, shoulder pads, and bad haircuts (harsh? You tell us). When you're invited to that '80s theme party, though, how are you going to pull these infamous trends together? We paged through our collection of old department store catalogs to dig up some fresh inspiration that's true to the time. Here are three ways to dress for an '80s theme party that are sure to evoke the Footloose soundtrack as you open the door.
No Excuses: Aerobics Outfit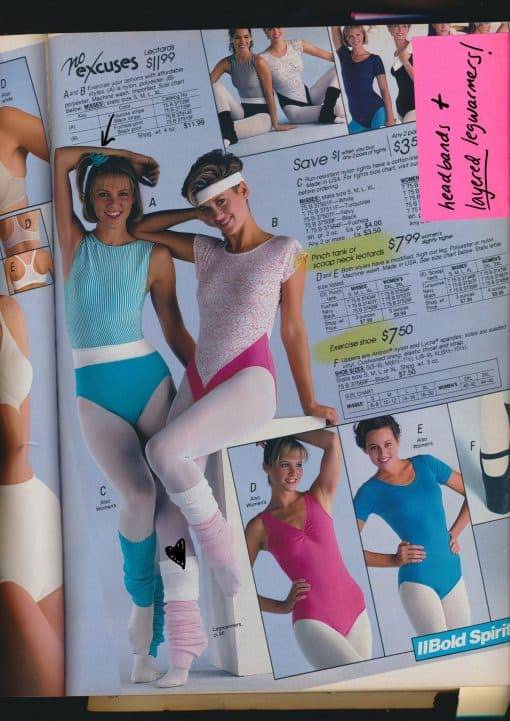 A page from a 1988 Sears catalog shows aerobic styling tips + tricks of the time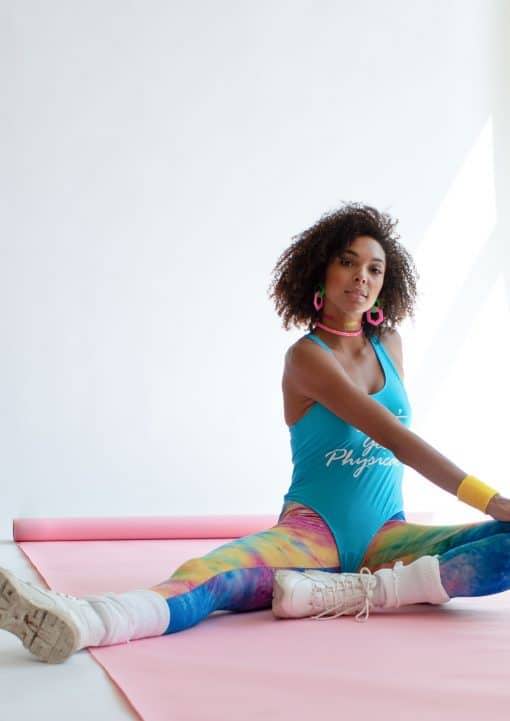 We jazzed up our version with tie-dye leggings, chunky trainers, and bright jewelry
While some people may find the classic aerobic costume overplayed, we love it for its recognizably-'80s qualities and über-comfortable nature. Make this costume unique by building a solid base and layering on intentional details. Don't feel like walking around all night in a glorified swimsuit? Slip a short-sleeve crop top over your leotard or add a pair of dolphin shorts for a little extra coverage.
Necessary:
1. Leotard
2. Tights/leggings
3. Sneakers or ballet shoes
Above and beyond:
1. Scrunchie or terry cloth headband
2. Belt
3. Legwarmers (one or two pairs)
4. Small weights or jump rope
5. Big hair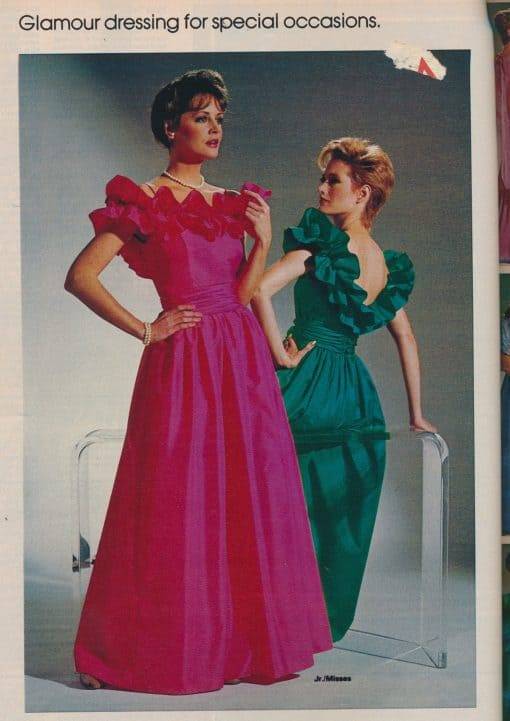 Montgomery Ward Fall 1982 – bold colors and extra volume at the neckline. Bonus points for the clear acrylic sitting prop.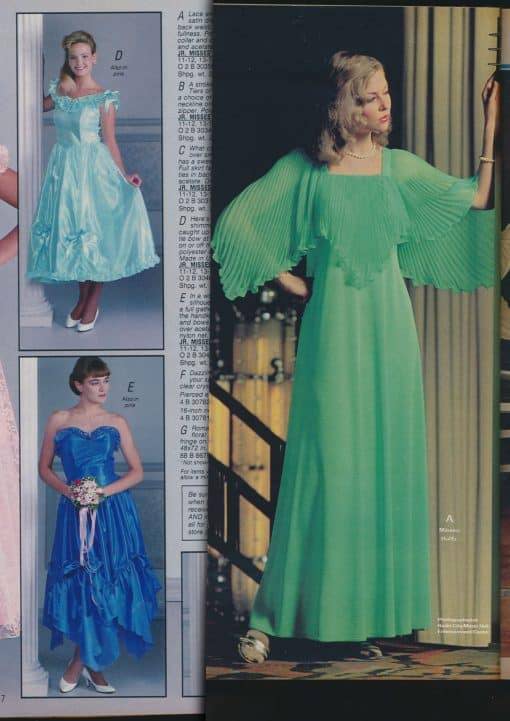 Love this dress from Montgomery Ward Fall 1980 featuring a poncho-like pleated top, empire waist, and bright mint green color.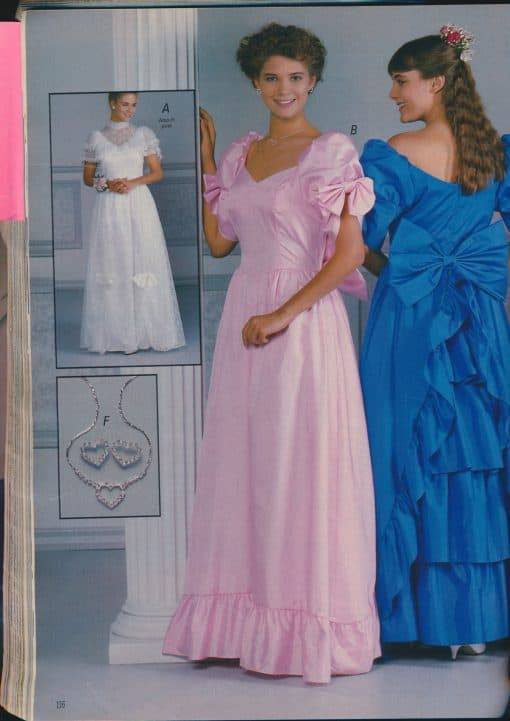 This page from Montgomery Ward Fall 1980 shows dresses with tiers of ruffles, lots of satin, and a sweetheart neckline that can be worn on or off the shoulders.
An '80s prom queen look starts with a great dress. Look for one made from a satin-like fabric featuring the biggest sleeves, ruffles, or pleats you can find. Off-the-shoulder styles were super popular during the '80s, along with bows, sash-tied waistlines, and floor-length hems.
Necessary:
1. An 80s dress fit for prom. Check your local Ragstock (or thrift store!)
Above and Beyond:
1. Pearls or faux-diamond jewelry
2. A corsage or bouquet
3. Over the top up-do featuring lots of volume
4. Metallic heeled sandals
5. Pantyhose
Sweater Weather: Keep it Comfy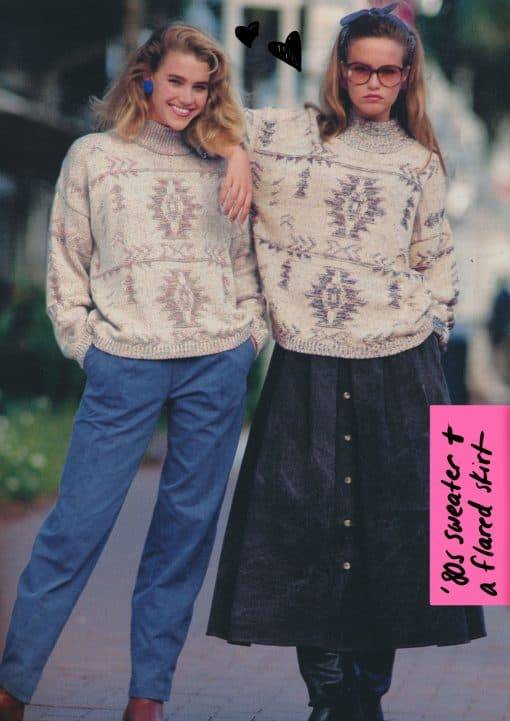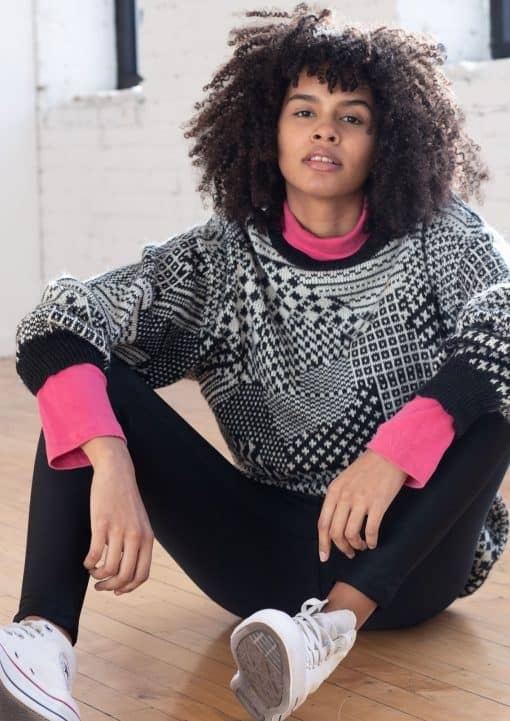 Layer a turtleneck under your sweater for an automatically '80s feel
If you're into keeping it casual, there's no better outfit for an '80s party than simply wearing a vintage sweater from the decade. '80s sweaters are famous for their loud colors, bold patterns, and oversized cuts. Take your pick from our large selection of vintage '80s sweaters or dig one up at your local thrift store. The bottoms you choose are flexible: you can go the classic route and stick to leggings, or go in the direction of acid-washed jeans, a pair of slacks, or a full skirt like the one shown above.
Necessary:
1. '80s sweater
Above and Beyond:
1. Side ponytail in a scrunchie
2. Headband or handkerchief in hair
3. Oversized glasses
4. Turtleneck layered underneath
5. Big jewelry
Denim: the Look of the '80s

'80s fashion brought the world a very special decade for denim. While classic blue and stonewashed denim abound, a new player showed its face among the racks: acid wash. Loved by some and hated by many others, this unmistakable fabric can be worn head to toe to achieve a true '80s look. When looking for the perfect jacket, search for extra thick denim, exaggerated shoulders, and don't forget to pop the collar. Denim dresses featured large lapels and oversized cuts, and '80s high-waisted denim jeans are paired with matching tops for maximum effect. These photos were found while digging through Montgomery Ward's Spring & Summer '83 catalog along with Sears September 1988.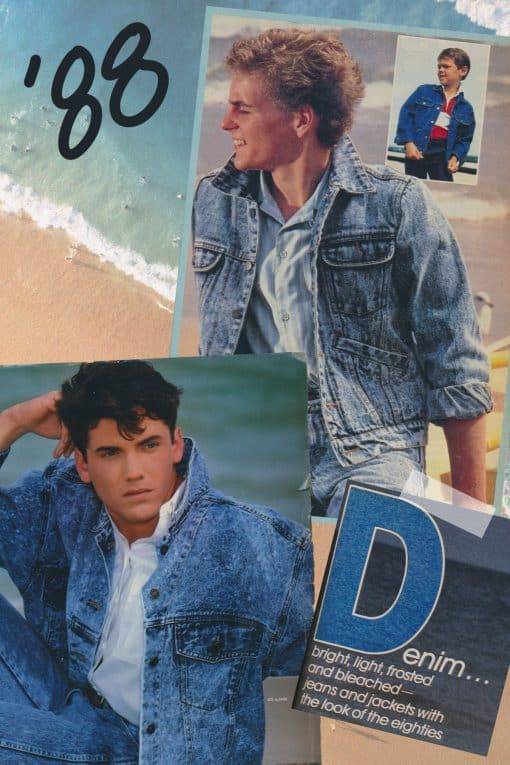 These clips from a 1988 catalog feature a perfect quote: "Bright, light, frosted and bleached—jeans and jackets with the look of the eighties".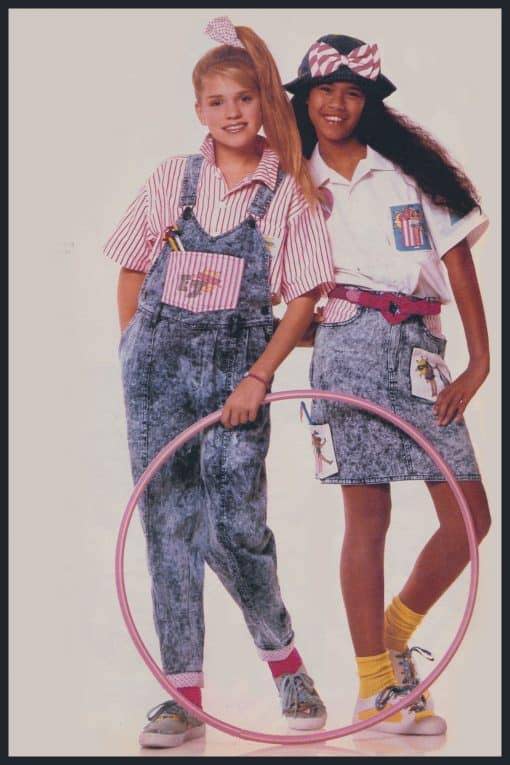 These '80s looks are perfectly over-the-top. Just pair bright stripes with contrasting acid-washed denim. Don't forget the hula hoop and giant hair accessories!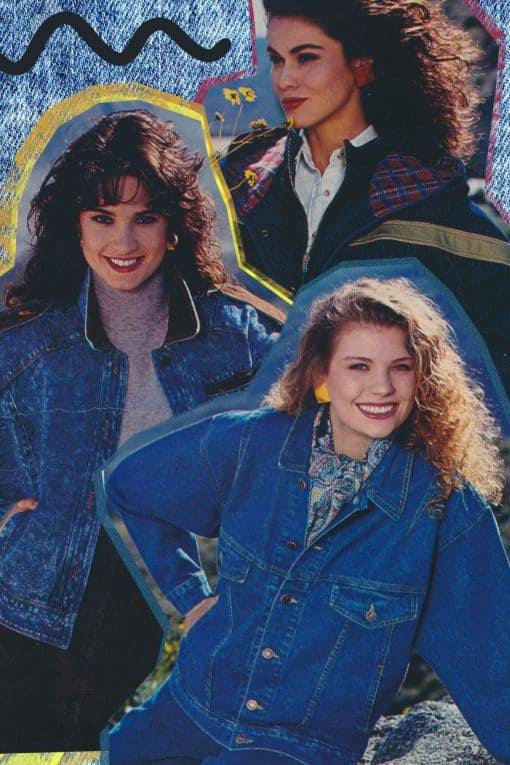 Three women show how to wear denim jackets the '80s way: over a button-up shirt, a heathered turtleneck, or with a patterned scarf.
Two popular denim jacket silhouettes of the late '80s, both cut from stonewashed denim. The longer, leaner bottom jacket is described as the "newest fashion look".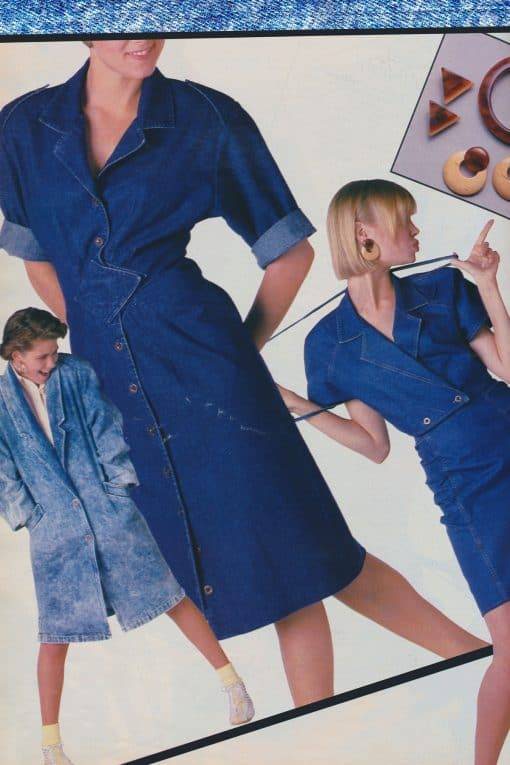 While the "swagger coat" on the left is the most recognizably '80s, the denim button-down dress in the middle is set in the decade with its large cuffed sleeves and exaggerated shoulders.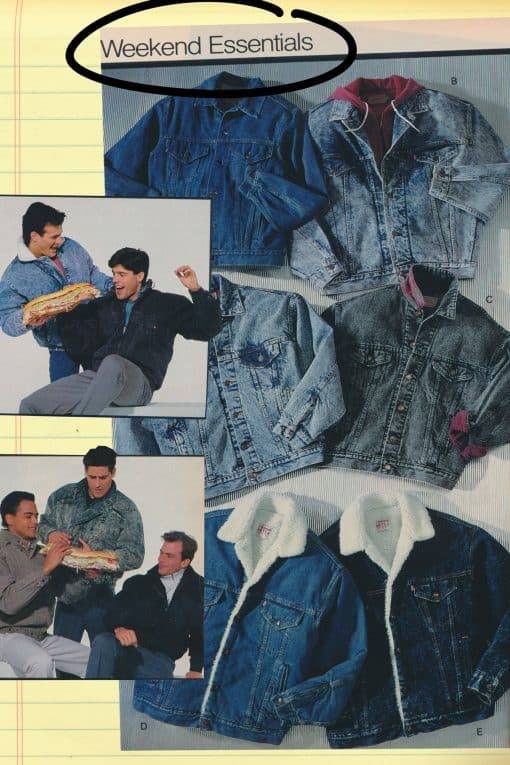 While these examples of denim jackets you could buy in 1988 are pretty informative, we have to admit we're pretty puzzled about the place of giant sub sandwiches among the denim.