Festival Outfits
Think flowing skirts, crochet tops, and styles that bring you one step closer to nature. Boho-inspired festival outfits are classic for a reason: they allow you to feel the breeze, soak in the sun, and swing to the music completely uninhibited. Honestly, what more do you want from a festival experience?
Raves, EDM and electronic festivals are maybe the most fun to dress for. Why? Because the sky is the limit for what you can (and should!) wear. Layer mesh with trippy patterns or center your outfit around a holographic showstopper (hello, favorite holographic rain jacket). Add accessories like iridescent cowboy hats and statement earrings. Here, shop our curated collection of festival wear tailored to all of your favorite raves and electronic shows!
With electronic music festivals, go bold or go home. Bright colors, metallic finishes, and skin-baring cuts are key to your festival outfit. Animal print is your favorite neutral and psychedelic prints are your BFFs. Pro tip: don't forget accessories! Shop earrings and necklaces that'll lock in that double-take.
Going to a festival and just want level up your typical style? A killer festival outfit can be made from mixing and matches new and vintage items to create one-of-a-kind looks. Shop our curated selection of summer classics that are perfect for festivals, like crop tops and vintage tees, retro-inspired button ups (wear alone or layered!), and all the vintage denim.
Eight Essentials for the Perfect Festival Look
When prepping your looks for an upcoming festival, the options can often feel overwhelming. Learning how to style killer festival outfits and fit everything in your travel bag can take an expert level of expertise, so we decided to help. Below, we've called out eight pieces of clothing that can make any festival outfit Insta-worthy. The bonus? You can wear them the rest of the year, too!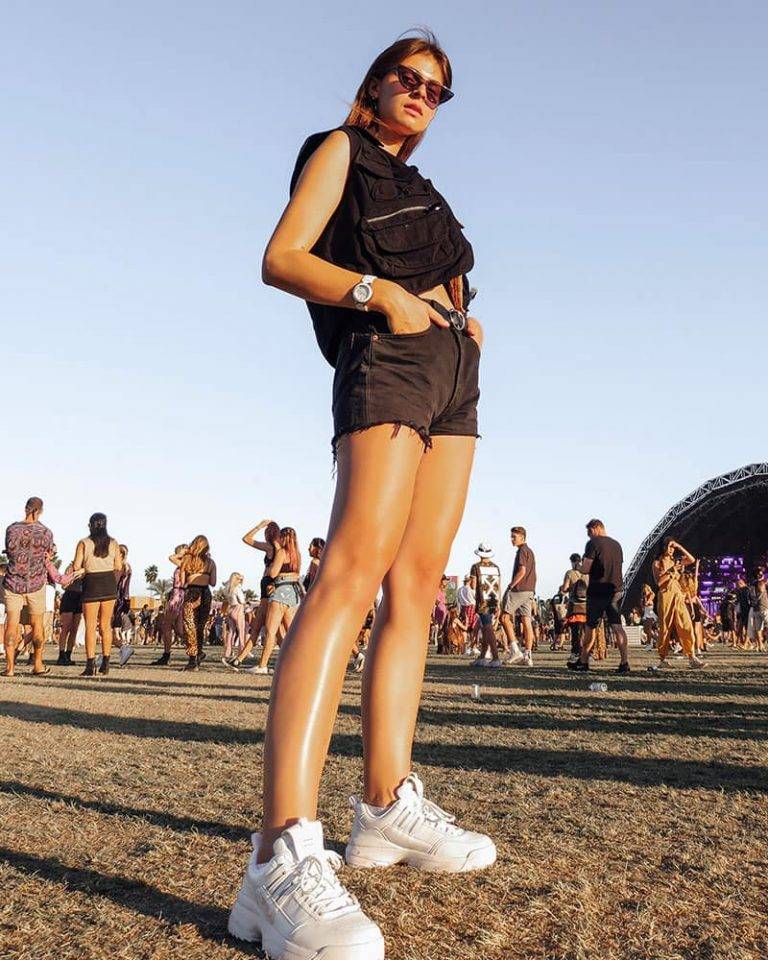 If there is one summer staple we can all agree on, it's most likely that perfect-fitting pair of denim shorts. While there are tons of great options for new denim shorts (check out our selection, why don't ya), a great statement-making bottom for your upcoming festival is a pair of vintage denim shorts. Choose a pair with a shorter inseam, like the ones seen here on @whaelse. Otherwise, longer inseams on vintage denim shorts are trending up these days. Grab a pair with a little extra coverage for all of that sitting on various patches of trampled grass!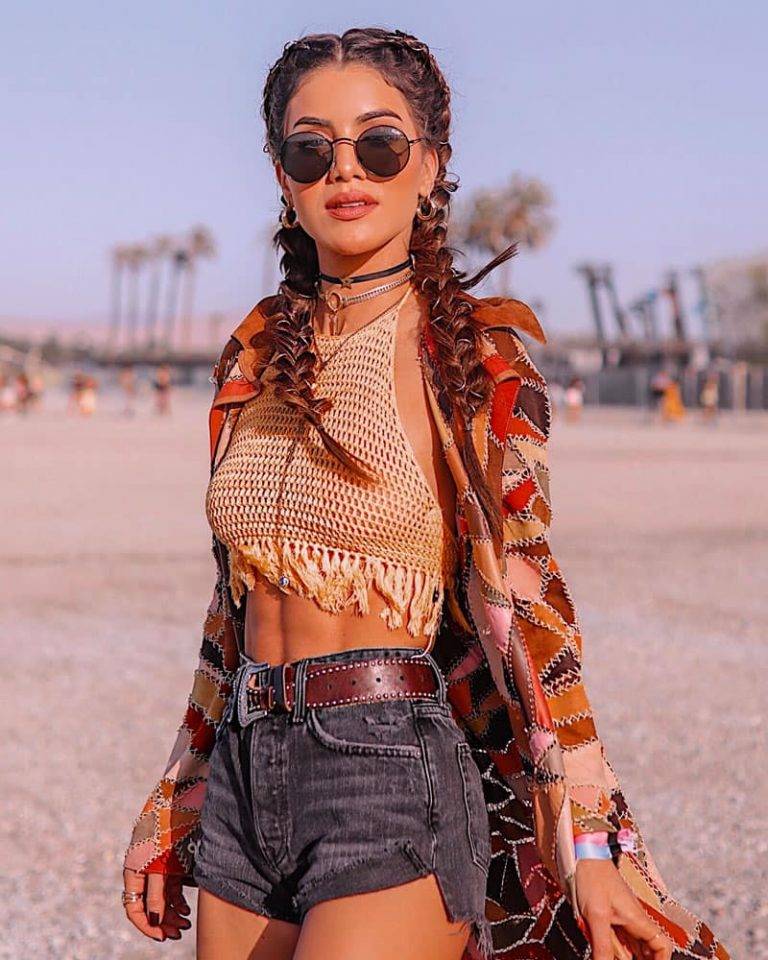 Back in the early reigning days of Coachella fashion, crochet could be spotted on any number of celebrities gracing the festival with their presence. Now that trends of the 2000s are popular once more, crochet has found its way back into our hearts. Pair a cute crochet crop top with your favorite pair of denim shorts, or take it one step further and rock a crochet set (like our Windsurfer Striped Crochet Cami & Shorts Set).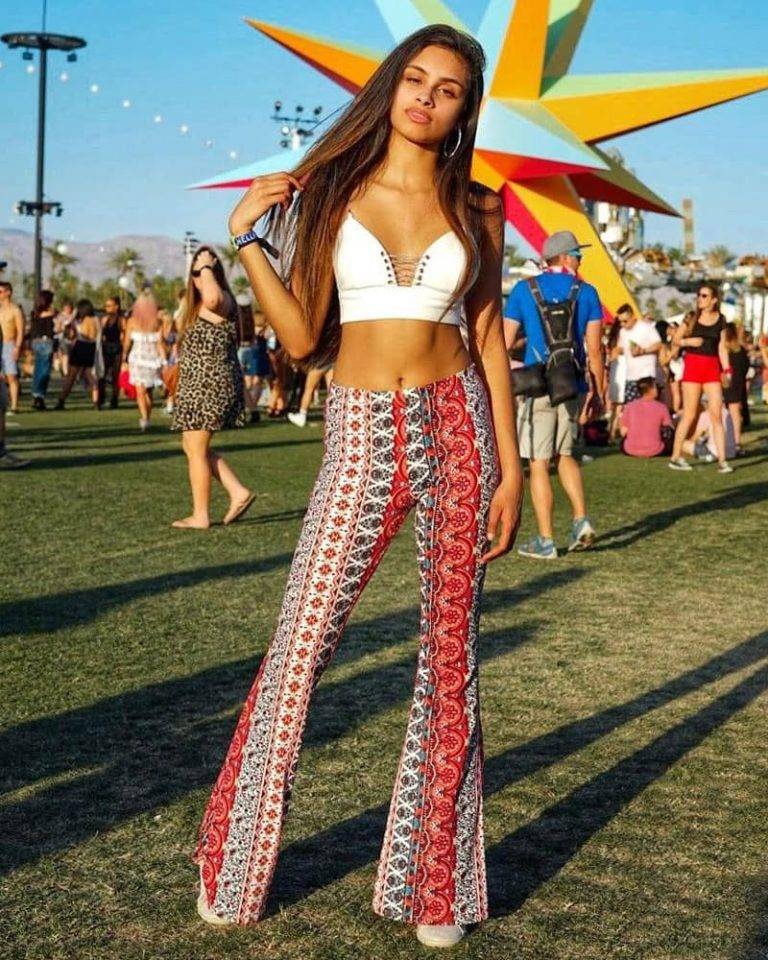 Boho-Inspired Bell Bottoms
While bell bottoms first became popular with sailors in the mid-1800s (just check out our blog post, A Brief History of Bell Bottoms), they became a beloved bottom in the mid-1960s and early '70s. In the golden age of hippies and free love, floating layers and bohemian-inspired prints were everywhere. Modern-day bell bottoms are often made from soft, stretchy fabric—perfect for wearing during the long hours of a weekend festival.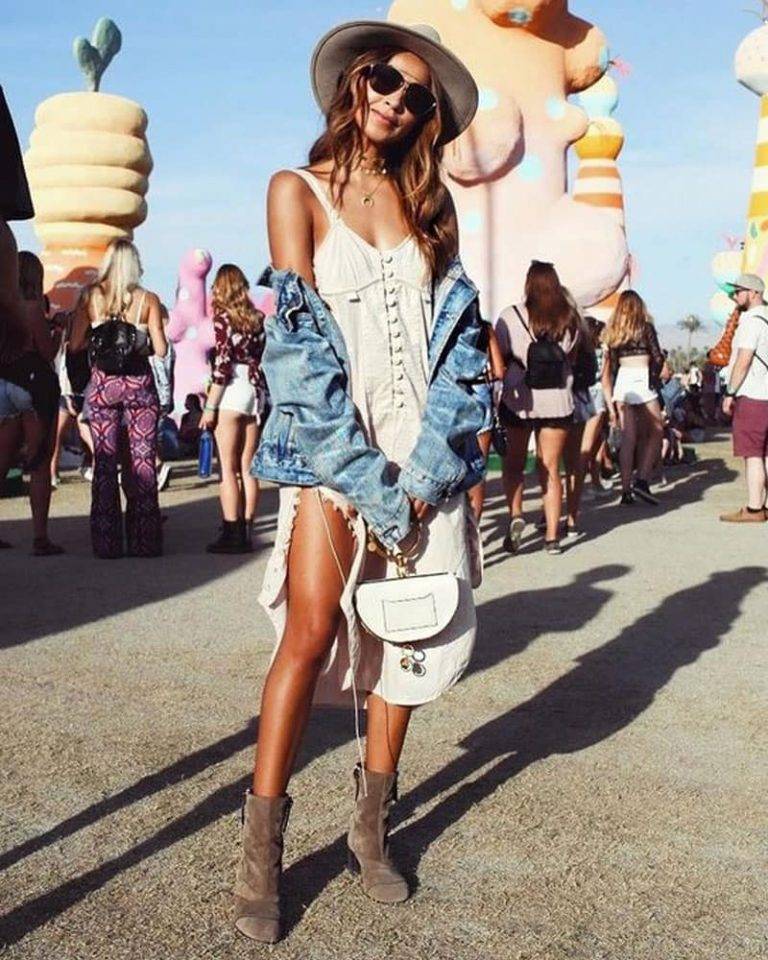 A Slouchy Vintage Denim Jacket
Once the sun sets, festivals can turn chilly in even the warmest climates. While you can rely on the collective body heat of the crowd, it's a great idea to have a fashionable layer to throw over your carefully-curated outfit. Enter: the vintage denim jacket. With a long history of being a workwear staple, denim jackets can take all of the wear and tear that might be seen throughout the fun of a festival. They look just as good slouched down the shoulder (as seen on fashion maven @sincerelyjules) as totally buttoned-up, so you know they'll be there for you in whatever way you need.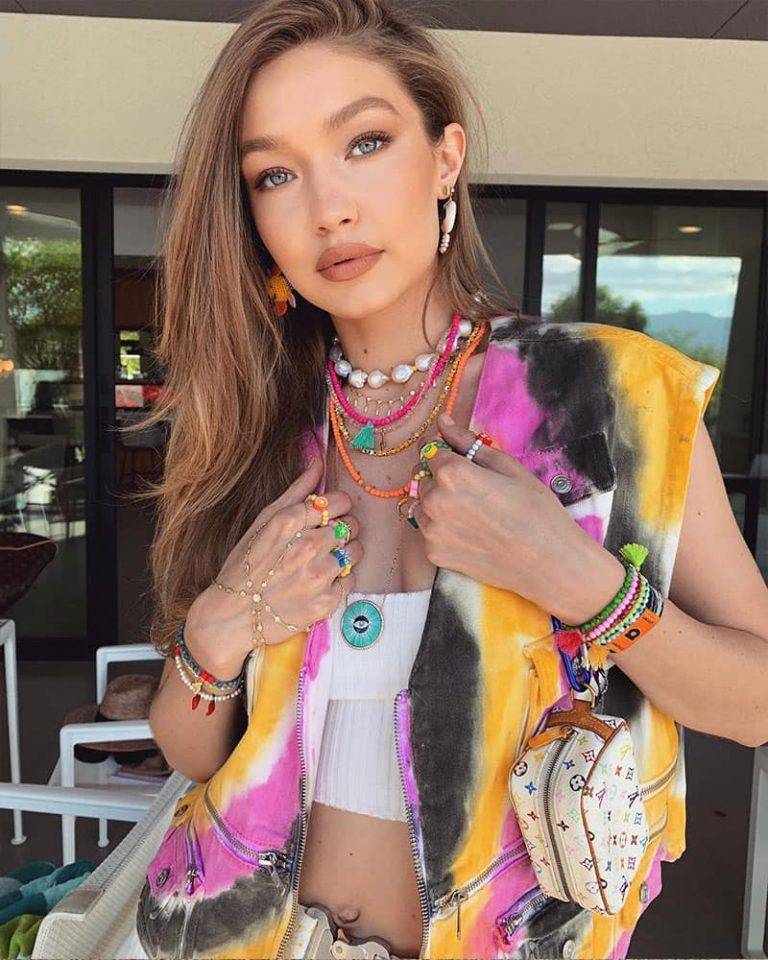 Ever since Woodstock, tie-dye has been a festival-wear staple. There are endless directions to take your tie-dye approach, from head-to-toe rainbows to an accent piece thrown into a more laid-back look. Pick up a basic tie-dye shirt to turn a simple outfit into one ready for any show. Find (or make) an unusual piece of tie-dyed clothing, like a vest, jacket, or shoes for an unexpected twist. Or, layer different patterns and saturations of tie-dye throughout your outfit for a head-turning festival uniform.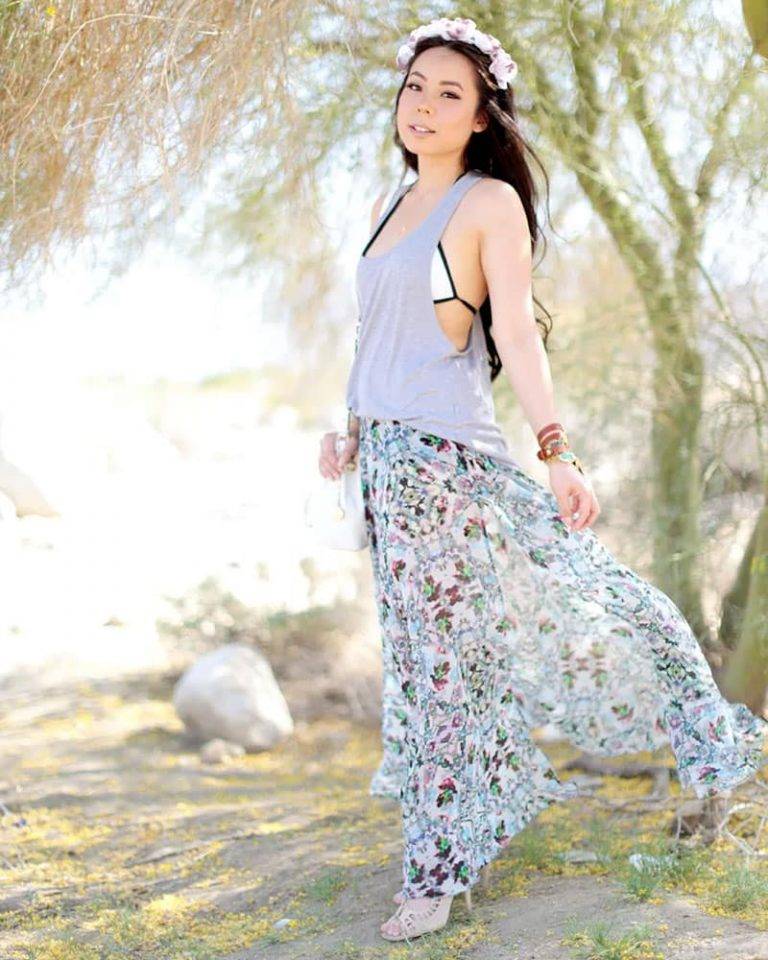 Free-Spirited Maxi-Skirts
A good, flowing maxi skirt is another festival staple that's remained beloved by show-goers for decades. While there are lots of new maxi skirts to choose from, there's nothing like a vintage skirt to add a soft, statement-making focal point to your festival look. Some maxi skirts have floral patterns or complex patterns, while others feature flowing gradients or solid washes of color. Whichever maxi skirt you pick, pair it with a graphic tank or tee to give it a bit of an edge. Festival outfit finished!
A good graphic on a vintage t-shirt has become a modern-day festival necessity. Wear a vintage tee cropped with a pair of denim shorts or skirt, or scout a worn-in oversized vintage graphic to wear as a mini dress with combat boots and a bucket hat. Throw biker shorts on for a bit of extra coverage and call it a perfect festival look. Graphic tees are an amazing staple to add to your festival wardrobe because they can be worn during the rest of the year as well. Vintage tee popularity has exploded over the past couple of years, so our website is stocked with hundreds of authentic vintage t-shirts.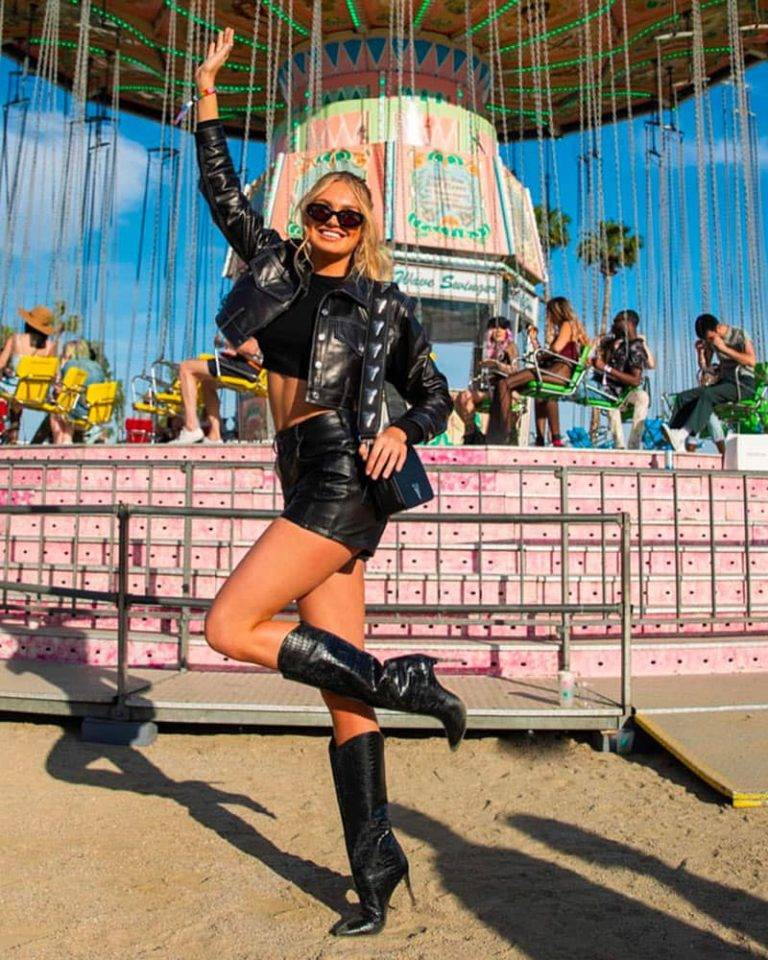 Leather, or faux leather (even better!), is a great way to add a bit of an edge to your festival outfit. Find a classic piece, like a vintage leather motorcycle jacket, to throw on in the evening once your shorts and t-shirt are proving a little chilly. Add leather boots to a softer outfit, like a floral dress, to provide contrast and make it a bit easier to step through that inevitable mud. Or, throw together a head-to-toe leather look to stand out in a crowd of boho prints and floral crowns.